Parkour Classes in Adelaide
We run a variety of Parkour classes in different locations and for different groups of people. This page lists our public classes – but we also run workshops, sessions in schools, personal training, and events. You can always contact us if you need more information or want to enquire about organising a session. The South Australian Parkour Association's Parkour Instructors are qualified under the Australian Parkour Association.
Unless noted, ALL CLASSES ARE SUITABLE FOR COMPLETE BEGINNERS. The aim of all our classes is twofold:
Equip students for training independently
Build a strong Parkour community
If you have any questions you can contact us. Remember that your instructors, and the people responding to your messages are all volunteers.
Sunday Outdoor Classes
Our longest running, largest, and most diverse session. In many ways, these are at the centre of SAPA's community. Most assistant instructors are raised through these classes. Each week you will be trying something new and visiting new locations around the Adelaide city. Instructors at these sessions are volunteering their time to share their experience and love of Parkour.
Details:
Time – 2:45pm, class runs 3-6pm
Meeting Location – Corner of Rundle Mall and Gawler Place at the large silver canopy [see here for reference picture]
Cost – $10
Details: We offer 2 class types on Sundays – First Timers and Basics. Both classes run at the same time each week. No bookings required. The classes are suitable for 10-50+ years.
You will be required to sign a waiver before you can participate – we will have them there for you to sign but you can print it before class to save time. If you are under 18, a Parent or Guardian must also sign this Waiver. If you are under 15, we require parental supervision for the length of the class. Even better, we recommend the parents join in too!
Note that parking can sometimes be difficult if other events are on, so always allow time as the class will not wait for you.
This class runs throughout the year, which means you need to come prepared to train in diverse conditions from pouring rain to intense heat. Bring a backpack with water and wear shoes that you can run in.
Point A Indoor Parkour Classes
SAPA runs several activities at Point A, the 'movement culture' training warehouse in the city.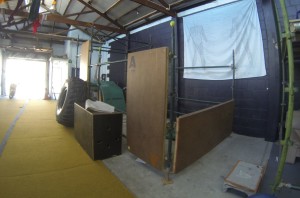 Point A – our indoor training space
'Fundamentals' Beginners Parkour Course
A 6-week course of Parkour classes running Thursday nights. These are a great way to get started if you are nervous about stepping outside, and even if you are not, the 6 week structured introduction gives a solid foundation for further training or classes.
Time    Thursdays 5:45-7:45pm.
Cost     $100 for the full 6 weeks.
Age      18+ (some exceptions possible)
Book your place by emailing contact@SAPA.asn.au – with "Fundamentals Class" in the subject line.
(you can also use the contact page which goes to the same place). Places are limited in each course, but we anticipate running new courses back to back as each one finishes.
'Teen' Parkour Basics
These classes pack a bunch of fun and good training knowledge into a short after-school session. Thursday afternoons on a casual basis. (No booking required).
Time    4:15pm-5.30pm (Venue open from 4pm)
Cost     $15 per session
Age      14-17
For updates email contact@SAPA.asn.au – with "Teens Basics Class" in the subject line. Or by using the contact page (which goes to the same place).
Adults Parkour Basics
Ongoing Parkour classes for those who like training in Point A, and with a more specific adult focus than most of our classes. These are open to anyone 18+, but are primarily to help those in mid-twenties and (well) above to have a good space to train. Thursday nights on a casual basis. (No booking required).
Time    Thursday 8pm-9pm,
Cost     $20
Age      18+
Kids Parkour Classes
We are currently kid-proofing our training space at Point A, building kid-sized equipment, and dealing with the bureaucratic and legal hurdles of teaching kids. We hope to be running classes for ages 7-12 soon, and hopefully even younger after that. To sign up for news regarding these classes, email contact@sapa.asn.au and include "kids" in the subject heading.
Kids and Teens Blackwood Class
Held in the Blackwood Community Recreation Centre's gymnastics hall, these classes exist to connect with the local community and provide a fun space for kids to train.
Time   
Tuesday 6:10 pm – 7:10 pm (9 -14 years old)
Tuesday 7:10 pm – 8:10 pm (14 -18 years old)
Tuesday 8.15 pm – 9.15 pm (16+ Intermediate)
Cost     $17 casual or $150 term fee
For full details, enrolment or enquiries go to the Blackwood Recreation Center website.
More coming…
We are always willing to speak with venues or communities seeking to establish a local class, or something specific to how they wish to train. All of our current classes have been built on word of mouth and working with groups who are eager to establish something. Please get in touch via contact@sapa.asn.au.
Learn independently
Classes are the fastest and safest way to learn about Parkour. However, there are many other ways to begin Parkour. See the Join Us page for some other options.